Announcing: "Warm Hearts, Warm Homes" in Philadelphia
Shipley Energy is excited to announce the Warm Hearts, Warm Homes program in Philadelphia. We are committed to caring relationships in the communities we serve.
The Purpose
The program will provide three families or individuals in Philadelphia who have fallen on hard times FREE natural gas supply for a year in the PGW and PECO utility service areas.
Past Winner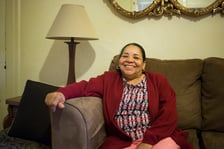 Beaverly Beatty is a former winner of Warm Hearts, Warm Homes. Nominated by her sister, in conjunction with the United Way, Beatty received a new heating system to replace her 19 year-old system. Photo Credit – Paul Chaplin, YDR.